ForensicWeek.com is beginning their third season and airing Episode 62 this Thursday, September 4th at 7:00 P.M. (EST). This season the show will be broadcast LIVE bi-weekly still on Thursdays from 7:00 PM to 8:00 PM (EST).  ForensicWeek.com will continue to broadcast a webcast TV show for its viewers that satisfies its mission, goal and vision principles.
Mission: To present REAL forensic related content by REAL forensic professionals;
Goal: To broadcast topics of interest valued by an international viewership;
Vision: Well informed practitioners; mentored students; and enlightened jury pools.
This season's premier show will highlight the episodes already archived on the ForensicWeek.com – YouTube channel, and announce the future shows scheduled for the upcoming bi-weekly broadcasts.  So join host, Tom Mauriello and his student interns for this special premier show on www.ForensicWeek.com.
Thank you for watching!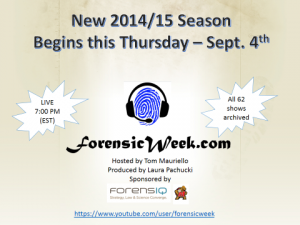 Want to wear logo apparel with ForensicWeek.com, ForensIQ or UM-CCJS logos, then go to http://forensiq-inc.com/store/ and select from the ForensIQ Online Store.