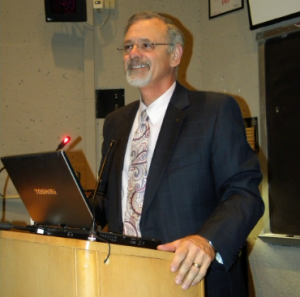 "Motivation through Communications — A Briefing Skills Presentation.
Stage fright, lack of confidence, poor preparation, and terrible PowerPoint slides: add them together and you have got the perfect formula for an on-stage disaster.  Preparing for and delivering high-energy, hard-hitting presentations should not have to be that tough, and it is not!  Aristotle once said, "It is not enough to know what to say…one must know how to say it."  This short presentation created by Tom Mauriello originally for security professionals in the intelligence community focuses on how-you-say-it with emphasis on your message being heard, understood and remembered.  It has evolved as an oral communications training module for anyone needing these skills.  You will learn the most common presentation mistakes that are made, how to fight stage fright, and how to integrate over "55" briefing tools that will help you take a humdrum briefing and turn it into a winner.
MINDMAP OVERVIEW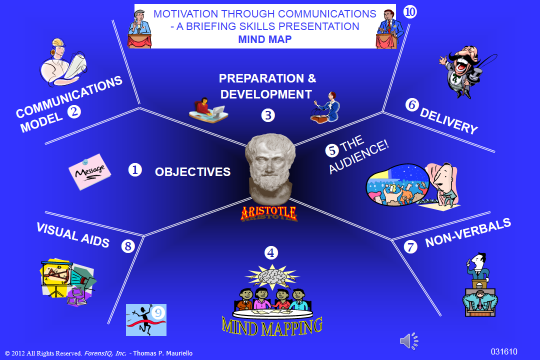 PRESENTATION TIME LENGTH: 3 to 4 hours.
NUMBER OF PARTICIPANTS: No maximum number within a single time and location.  Video-teleconferencing additional.
INTENDED AUDIENCES are persons
who…
speak to one or one thousand in public;
are comfortable speaking in public and want to fine-tune their skills
are not comfortable speaking in public;
have spoken or have never before spoke in public;
dread speaking in public;
will not speak in public;
are looking to increase their skills in public speaking; or
manage personnel who need any or all of the above.
Guarantee:  Every participant will walk away with tools they will be able to immediately use in their next presentation.
Recent unsolicited testimonies:
"This speaker was great, interesting and very informative.  Please invite him again."
"Fun workshop, learned a lot.  Excellent presenter."
"This could have easily and effectively been a full day course!  What we got was great, but I still wanted more."
"Awesome workshop."
"Took some good information for my supervisors."