Tom Mauriello developed and teaches the University of Maryland @ College Park, Department of Criminology and Criminal Justice's popular academic course, CCJS 320 – Introduction to Criminalistics.  He has being teaching the course for the past 40 years and it is offered each Fall, Spring, and Summer Session semesters each year.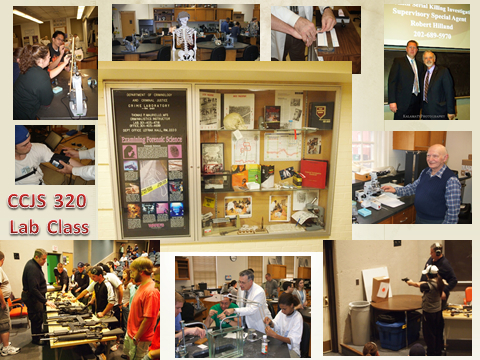 "Professor Mauriello,
 I just wanted to thank you for this semester. This class has truly been one of the most exciting and intriguing classes I have ever taken at the University of Maryland. I would honestly come back from class and brag to my roommates about your class and the things we learned. I have never been more involved in a class than I was in your class."                                                                                       – Criminal Justice Student – Fall 2012
"Prof. Mauriello
 I want to thank you for a wonderful semester. This semester is my last at UMD, since I will graduate in a few days.  Honestly, this is not only one of the classes that I enjoyed the most at UMD during my time here, but it is one where I learned the most. I walked away every day after class with new knowledge. I enjoyed every lecture and demonstration.
 Your enthusiasm, passion, and energy towards the material added extra value to the class. The quality of this class is incredible. All the best to you."
 Respectfully,
Juan A. Loera – Fall 2014 CCJS Student at the University of Maryland [Juan was the first student to make a firearms identification with the Crime Laboratory's all new forensic comparison microscope.  See  below.]
To see more specific see "Rate My Professor" evaluation ratings and comments and "Our UMD" Thomas P. Mauriello Reviews.
New forensic comparison microscope added to Professor Mauriello's Crime Laboratory on the College Park Campus.  Click here for story.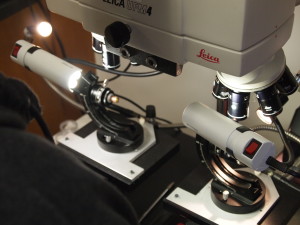 Professor Mauriello Invited to Center for Teaching Excellence 2012 Summer Institute on Teaching with New(er) Technologies  http://www.ccjs.umd.edu/featuredcontent/1178

UM Students Place in 9th Annual CSI Challenge at Mount St. Mary's University, Emmitsburg, Maryland
University of Maryland College Park CCJS students participated for the first time in Mount Saint Mary's University's Ninth Annual Crime Scene Investigation (CSI) Challenge, on Saturday, April 6th, 2013, in Emmitsburg, Maryland.  Faculty Mentor, Tom Mauriello and his student team of Criminal Justice majors, Tim Fromm, Mark Lombard, and Andrea Williams placed 3rd out of the 35 teams competing this past weekend. The CSI Challenge is a competition where students from local area universities and Canada demonstrate their knowledge, skills, and abilities in crime scene investigation and evidence collection. Students assume the roles of both a crime scene investigator and evidence technician and are presented with their crime scenario and given a limited amount of time to process a mock crime scene, collect pertinent evidence, and complete all necessary reports. Student teams were required to perform crime scene tasks to include surveying and securing the scene, interviewing witnesses, crime scene sketching, crime scene photography, and demonstrate proper evidence collection procedures. The objective of the program is for students to use team work and critical thinking skills to complete their task effectively and efficiently.  Law enforcement and forensics professionals and educators judged the students throughout the exercise and those teams with the three highest scores were recognized at the conclusion of the event.  Congratulations to the University of Maryland CCJS Team for being one of those recognized.  All three students had successfully completed CCJS 320, Introduction to Criminalistics, and demonstrated the value of the course by successfully competing with so many of their peers.